I have no idea. Because I'm watching my counter and I get so excited as it goes up. I reached 10,000 views a couple days ago and my heart got all pitter pattery and I had to announce it to the world. Am I that insecure that I need reassurance from numbers that someone cares about what I'm doing? In short, yes. It pumps me up! I don't know why, and I guess I don't care why! It just does. So I will continue to post little insignificant refashions, easy crafts, the occasional building project and a recipe now and again. After all, this is my life. It's fun. And I'm not watching TV 16 hours a day anymore.
Today for lunch I made chicken salad. I didn't use a recipe, I made it up. And I must say it wasn't bad.
Carolyn's impromptu chicken salad
4 oz. shredded cooked chicken
2 hard boiled eggs, cut up
Mix all ingredients, enjoy. Makes 2 main dish servings.
And please check out the blog hop at: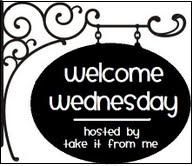 I'm linking up to: